Trustworthy log sales on the forest owner's terms
Versowood is known for the fairness of its log sales, its accurate harvesting processes and efficient collection of sawn wood. As a forest owner, your wishes and needs guide our work. Our skilled regional wood industry experts are experienced in helping you to make profitable decisions.

We help you collect the felling leftovers from the forest at the felling stage. From these by-products we produce forest energy. Our forest energy heats thousands of homes in Finland.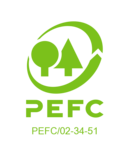 Use of domestic wood can be sustainably increased
Finnish forests grow at the rate of more than 100 million cubic metres per year. The amount of growth of wood stock exceeds the total removal (82 million m³), and our forest resources are growing all the time.
We acquire as raw materials for our own use:
spruce/fir logs
small spruce/fir logs
pine logs
small pine logs
pine pole timber
energy wood