Finnish timber that lives up to its solid reputation
We are a Finnish wood processing company that gladly lives up to its responsibilities. We are innovative and committed to maintaining the ecological balance at every step of the production process. It is important to us to keep our word, and to exceed what is required of us, both in log sales and in manufacturing.

In addition to caring for the environment, the raw materials chain and the production process, we at Versowood also place a high value on the expertise, safety and well-being of our employees.
Responsibility
At Versowood, responsibility is first and foremost about caring and taking responsibility for our entire value chain - our employees and our own operations, but also for all our partners who make the journey of wood from the forest to the end customer possible. Read more from our Sustainability Report.
Versowood´s company values
Values work like a compass and helps us to act and make decisions based on them. They are present on every day life when we meet our customers and we meet each other, values helps us make decisions and choices. With the help of values, we create and strengthen a common identity. Values increase the sence of solidarity and capture issues that would otherwise be difficult to grasp. That is why - WE CARE. WE DARE. WE LEAD.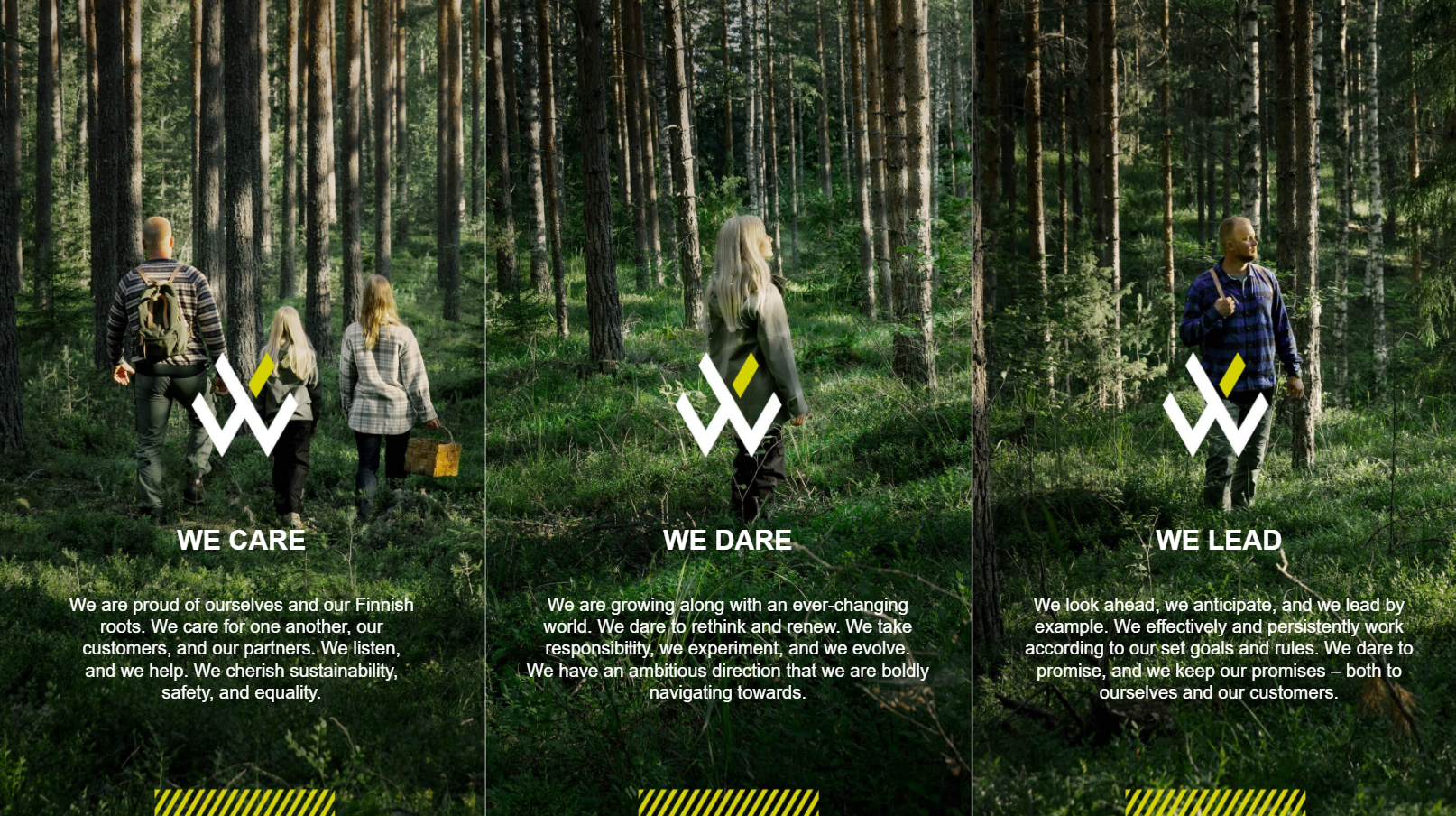 RESPONSIBLE - Versowood is a producer of sustainable wooden building and packaging materials and energy products. Our products store carbon dioxide from the atmosphere and as a renewable raw material wood is an ecological option. To ensure the origin of wood we follow the requirements of PEFC and FSC sertificates.
RESOURCE-WISE-PRODUCTION - We utilise 100 % of every log. We produce timber and processed products, such as glulam structures, wooden packaging and beddings for animals. Wood chips, i.e. wood dust and bark, go to the paper and pulp factories, where they are used to produce bioenergy.
ENERGY EFFICIENT - Versowood is actively developing the energy effectiveness of the production sites. We are involved in a national contract that binds us increasingly to reduce the energy consumption numbers.
ENVIRONMENTAL AWARENESS - Taking care of the environmental issues is part of everyone's job in Versowood. Chemicals are handled with care and waste management follows the principles of circular economy.
Environmental effects of our production sites are monitored carefully following the requirements of our monitoring program approved by environmental authorities. We are prepared to act in case of environmental accidents and spills. We use the best available technology to reduce pollution to water, air and soil. Storm water management improvements are one of the key acts during 2019-2021.
CONTINUALLY IMPROVING -Versowood is active in monitoring regulatory changes and takes acts proactively. We develop and implement our environmental policy together with our stakeholders.
Versowood actively implements and searches means to increase the environmental benefits of our products, starting from the forest, all the way to the customer.